Natural brands of Serbia
Products Catalog
Master Fruits - Products Catalogue.pdf
RASPBERRY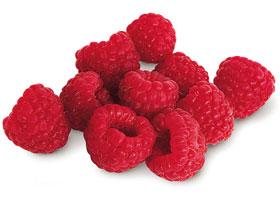 As a product raspberry could be Rolend (whole), whole and broken, crumble (mashed raspberry) and block - third class of raspberry that is used for hot processing (marmalades, juices…)
The raspberry Rolend is a deep frozen quality, whole and ripe raspberries (non calibrated or calibrated), color red to dark red fruit, clean free from damage, desease, mould, foreign matter and organic and mineral impurities. Geographical origin: Arilje, Požega, Ivanjica. The raspberry sorts from which the product is made are Willamette and Meeker.
Quality: I.Q.F., whole fruits, max 5% broken/crumble. Origin: Serbia; Variety: Willamette, Meeker; Calibre: Non-calibrated or calibrated; Packaging: Cartons 4x2,5 kg net poly bags Cartons 5x1 net poly bags; Storage: Deep frozen at min. -18◦C; Transport: Land – refrigerated trucks; Sea – refrigerated containers; Delivery: The goods will be delivered as per agreement on EURO-pallets with labels stretched with foil.
ARILJE – THE CAPITAL OF RASPBERRY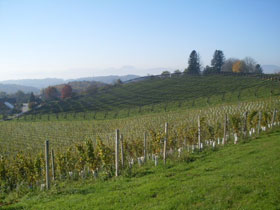 The municipality of Arilje lies in the western part of the Republic of Serbia, belonging to Zlatibor region. It is situated between the river basins of the Moravica, the Big and the Small Rzav, covering the area of 349 km at the altitude of 1330-1382 m. It belongs to the hilly-mountainous area which has the best conditions for raspberry growing. This area is rich in clean waters and attractive forest landscapes, which makes it one of the cleanest and healthiest areas in Serbia. The preserved environment offers excellent conditions for the production of healthy food. Arilje is already well known in the world by raspberry production and it is often called the world capital of raspberry production. Almost the whole population is engaged in the raspberry production. According to statistics 5.000 of small factories in the open produce about 20 million kilograms of raspberry per year. This region has the biggest concentration of nursery plants in the world and raspberry is also called red gold of Serbia since our country is one of the leading producers of raspberry in the world.
The best quality of our raspberry is result of ideal combination of specific climate conditions, quality soil and production technology.
BLUEBERRY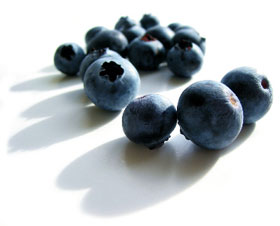 Blueberry became after raspberry most popular Serbian brand in a past few years. Production of blueberry has a great perspective and has high percentage of product ability. Around 95% of picked up crops are placed in global and local market as processed or fresh fruit. This culture is mainly produced in municipalities Arilje, Užice, Bajina Bašta i Čajetina. There is a demand for this product on both local and global market so production is being reorganized in last few years. Producers are working on production increase and are investing in capacities for processing, storage and delivery of blueberry as well as in marketing of this rare fruit. Serbia has potential strength since harvesting season here is starting right after harvesting in Spain is finished and harvesting in Poland didn't start yet. So we have a chance to use delivery gap. Export of blueberry, mainly frozen, goes to the European and USA market where quality is in the first place. Blueberry sorts that are mostly present in Serbia are Bluetta, Bluecorp and Blueray on approximately 50 hectares with annual production of 20 tones per hectare.
BLACKBERRY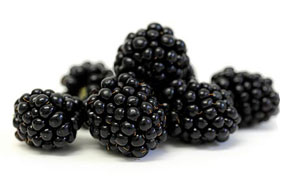 As a product blackberry could be Rolend, confitura, crumble and block.
Blackberry Rolend is a deep frozen, quality, whole and ripe blackberry free of foreign mater and organic and mineral impurities. Color black with 5% ruby color. Blackberry confitura has the same characteristics but with 20-30% ruby color. Blackberry is also very important local product. The blackberry sorts that are growing in Serbia are Thornfree, Čačanska Thornfree (75% of blackberry production) and Black Satin. Most of them grow in small private owned plantations with traditional technics of fruit growing and picked up manually. Few years ago production of this fruit was in expansion in Serbia with a potential to become No.1 producer in Europe but situation drastically changed in favor of raspberry and blueberry. 84% of produced blackberry is exported of which 90% are frozen and 10% fresh and mainly to EU countries.
PLUM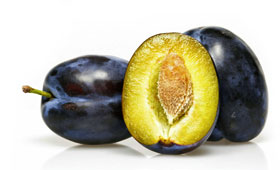 As a product plum can be deep frozen whole with the stone, sliced on the half (manually or mechanicaly) without bones or dried. For the centuries plum as our traditional fruit was a part of everyday life of Serbian farmer and Serbia was worldwide recognized by its dried plum. As a plum producer with the production on 150.000 hectares Serbia takes second place in Europe and fourth in the World. Annual production of plum is around 600.000 tons and from that quantaty two thirds are used for production of plum brandy, famous Šljivovica. Two thirds of our plum is exported as a fresh fruit and the rest part is the most wanted dried plum and all sorts of  plum products ( juices, compots, jams, sauces etc). These products are mainly exported to Arabian, Scandinavian and EU markets. In Serbia are present next sorts of plum: Požegača (plum from Požega), Stanley, Čačanska rodna, Čačanska beauty and Čačanska early. We look at plum as our most importand export brand.
STRAWBERRY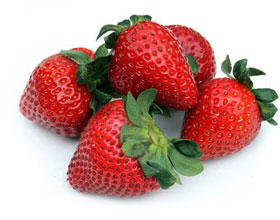 Serbian strawberry is well known by its red hot color and ability to remain freshness and intensity of its taste even after being deep frozen and processed. It is produced on approximately 8.500 hectares all over the Serbia with annual production of about 4 tons per hectare and total production of 33.000 tons per year. Most present sorts are Senga Sengana and Camarosa. Beside them other sorts of strawberry are suitable for consummation as a fresh fruit. Thanks to its characteristics strawberries can be used for different purposes: for production of high quality jams and marmalades as well as sweets and juices. For now Serbia is exporting only small part of its strawberry production and most of this fruit is consumed as fresh fruit on domestic market. 93% of Serbian strawberry is exported as a frozen product and only a small percentage as fresh or processed fruit.
SOUR CHERRY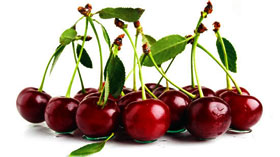 As a product it could be deep frozen Rolend quality with or without stone and sour cherry block quality with or without stone. Sour cherry Rolend is a deep frozen, quality, whole and ripe blackberry free of foreign mater and organic and mineral impurities. The stone is being mechanically removed from the sour cherry. Sour cherry is another product that Serbia is exporting worldwide but mainly to EU countries. Accordingly to some statistics Serbia has 100.000 sour cherry tries with production potential of 100.000 tons of this fruit. Municipality of Merošina is well known region where the best sort called Oblačinska sour cherry is produced on 2.000 hectares. Serbia market share in the global production is around 7,8 % and when we talk about European production we are present with around 11,7%. These figures are showing our potential and presence in a global fruit market. Sour cherry is mainly used for industrial fruit processing and Serbia exports 35-50 percent of its production. The best known sort is Oblačinska sour cherry.
STATISTIKA
Raspberry is our most important export product in the structure of agriculture export.
Total aria of raspberry plants in Serbia is 15.2 thousand hectares with a tendency of growth and annual average rate of 2.8%. Raspberry production in Serbia varies from 65.000-100.000 tons.
Average yield of raspberry in Serbia is around 7 tons per hectare which is 6% more comparing to European yield.
98% aria of raspberry nursery plants is located in Central part of Serbia. Region with the biggest raspberry production is Zlatibor region.
In last five years annual production of raspberry was 80.000 tons.
Serbia exports raspberry mainly to European Union
More than 200.000 of population in Serbia are involved in seasonal production including seasonal employees hired during the harvest.
World production of raspberries is in expansion and it goes up to 460.000 tons per year. Total area of raspberry plants is estimated to 82.000 hectares.
In the past, Serbia was a world leader in raspberry production with annual year production of 116.000 tons.
87% of world production of raspberry is located in Europe.
Germany and France are leading consumers of raspberry with 10kg per inhabitant.
The biggest importers of Serbian raspberry are USA, Great Britain, Germany, Austria and France.